Cuisinart Private Reserve 12-Bottle Wine Cellar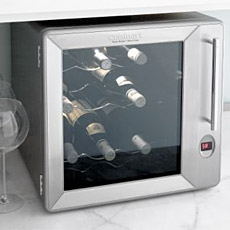 $ 100 USD
Cuisinart Private Reserve 12-Bottle Wine Cellar
Cuisinart presents an alternative to expensive full-size wine cellars! Traditional stainless steel styling and the option of soft interior lighting let you beautifully display up to 12 bottles of wines and champagnes. Patented temperature control guarantees that different varieties are stored at ideal serving temperatures. Thermoelectric "compressor-less" cooling makes this countertop cellar lightweight, easy to carry…and quiet!

Features:
12-bottle countertop wine cellar
Thermoelectric cooling technology - reduces noise and vibration
LED readout with eight presets for proper serving and storage temperatures for any variety of white or red wine
Three removable chrome racks designed to hold 750 ml bottles
Stainless steel door design with chrome handle
Double-pane tinted viewing window
Instantly switch from Centigrade to Fahrenheit
Interior light with permanent ON option

Model: CWC-1200, manual included

Dimensions: 15.94"H x 21.26"W x 16.73"D
Weight: 35 lbs
Three year limited vendor warranty

still in original packaging.
 
Quantities: 1 available

Price: $100 (compares to $134.00 at ebay/Amazon)
-You can pay me thru. paypal here/cash.


If interested, please contact us for pick-up/drop-off at LA/OC/IE, CA.